In a new offseason series, Insider takes an in-depth look at NFL teams before free agency begins March 12. What is each team's philosophy on offense and defense, biggest needs and one player who could make for an ideal signing in free agency?
Team philosophies

Offense — This is a coaching staff under coach Jim Harbaugh and coordinator Greg Roman that really understands its strengths and weaknesses in terms of personnel. Everything starts with a between-the-tackles Frank Gore run game and they are not averse to using a lot of heavy formations with multiple tight ends and even extra linemen. Their blocking schemes are very creative with pulls, whams and traps from all directions. Obviously with Colin Kaepernick at quarterback, the pistol formation and all the plays they can run off of it gives this offense even more looks to defend. The 49ers also block very well on the second level and with Kaepernick's speed he is always a threat to tuck and run or even run the QB draw.
We don't see a lot of spread formations and multi-receiver sets because this offense wants the opposing defense to stay in its base package, and that is what those heavy formations do. In 2013 look for more vertical passes from Kaepernick, who throws a nice deep ball, especially off play-action.
Defense – Coordinator Vic Fangio has a dominating unit on all three levels and this is a defense that rarely had to substitute in 2012 because it was healthy. The 49ers use a base 3-4 scheme with a rush-four, drop-seven approach and they blitz almost less frequently than any other team in the NFL, even though they have good blitzers in the back seven. They can play one-gap and two gap-techniques and they play fast, but with surprising gap integrity and discipline.
What's special about this defense is that their inside linebackers, Patrick Willis and NaVorro Bowman, are excellent cover guys who are three-down players. That means the 49ers can use their base package in almost all situations and they never get caught in bad personnel groupings. On the back end they will play a lot of combo coverages (zone and man), but they are not afraid to put their cornerbacks in aggressive man looks.
---
Team needs
1. Defensive line – There are not a lot of glaring needs on this roster and because the 49ers have stayed very healthy in recent years, the backup players have not gotten a lot of snaps — so we don't know how good they really are. Age and injuries are a concern up front and while the 49ers' defense is still playing at an elite level, youth and depth must be addressed. The physical defensive trio of ends Justin Smith and Ray McDonald and NT Isaac Sopoaga are physical and dominating, but they have a combined 28 years of NFL experience. Smith's talented backup at RDE, Ricky Jean-Francois, is also an unrestricted free agent. However, with 11 draft choices (not including compensatory picks) San Francisco has a lot of flexibility.
[+] Enlarge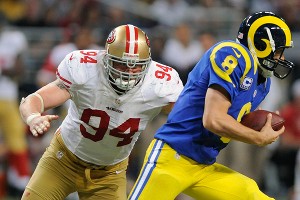 Jeff Curry/USA TODAY Sports The Niners must think about how to replace an aging Justin Smith in the years ahead.
2. Linebacker – The starters are impressive. Ahmad Brooks and Aldon Smith are productive edge rushers, although Smith's play dipped late in 2012 season with the injury to his DE partner Justin Smith. Inside, Willis and Bowman never came off the field and both backups, Clark Haggans and Larry Grant, are unrestricted free agents and replaceable.
3. Wide receiver/tight end – This pass offense has a lot of weapons and personnel grouping flexibility, but there are some concerns. Both Randy Moss and Ted Ginn are unrestricted free agents, with Moss possibly coming back in a backup role and Ginn probably on his way out of San Francisco. However, they still have playmakers outside and last year's first-round pick, A.J. Jenkins, should emerge as a legitimate playmaker. Delanie Walker is a UFA at tight end, and while he is an integral part of this offense he could receive some big offers from other teams.
4. Quarterback – This could actually be a more pressing need with the expected departure of Alex Smith. Scott Tolzien is a decent backup, but certainly not a read-option QB. With Kaepernick's running style, the 49ers need a dependable No. 2.
5. Safety – Starters Donte Whitner and Dashon Goldson are as good as it gets, but Goldson is a UFA and if the 49ers franchise him he probably will not be pleased. They have two interesting developmental backups, Trenton Robinson and C.J. Spillman, but right now they are mostly special-teams players.
6. Kicker – David Akers really struggled late last season and both his confidence and the coaches' faith in him can't be great going into training camp. Don't be surprised if at least competition is brought in.
– Gary Horton
---
Key free-agent move
Richard Seymour, DE, UFA
Seymour
The 49ers don't have to look far to add a piece along the defensive line that will give them the depth that they need, as Seymour presents a strong option in free agency on a short-term, moderate-value contract.
After missing eight games in 2012, Seymour needs a season to build back his stock, but at 33 he still has value as both a run defender and pass-rushing threat. He's a scheme versatile player with rare length and first-step explosion, and would give the 49ers depth behind Justin Smith, who will be recovered from a triceps injury in time for the 2013 season.
With a talented roster and 11 picks in the upcoming draft, the 49ers don't need to make dramatic changes to compete for a Super Bowl in 2013 — it's about beefing up areas of average depth and finding players who can thrive within their scheme. After striking gold in adding a veteran towards the tail end of his career on a one-year deal with Carlos Rogers during the 2011 offseason, the 49ers should set out to do the same in adding Seymour this year.
To read the rest of this article click on this paragraph and fill out this offer for free Axe Deodorant. After you submit your email you will be redirected to the rest of the article.